What is the purpose of this post? The primary driver is to show how to install Ghost CRM a blogging platform locally. However its written to show how to do the install locally using Virtualbox. As i go through it I'll keep updating the notes to explain what is happening and why.
| | | | |
| --- | --- | --- | --- |
| Version | Date | Change | Notes |
| 1.0 | 2 Dec 2020 | Initial Post | Initial Post |
Please be aware, these instructions are for a local install and are not fit for Production systems. They are designed to provide a flavor and a test system.
Please also be aware I have provided references at the end of the post for websites i have lifted text and images from.
Disclaimer
There are spelling mistakes, grammar errors on this post, i'm a single person, trying to get words down on a page and do not have a copy editor. If your issue is with something technical, please discuss. I'm happy to make a change.
Setup Virtualbox
What is Virtualbox?
At a very high level Virtualbox is an application you can run on your computer which allows you to run other computers in your computer.
As an example, you may run Windows as the Operating system on your computer. You may want to try Ubuntu but don't want to install Ubuntu onto your computer. You can install Virtualbox on Windows and install a full copy of Ubuntu inside Virtualbox.
This guide uses Virtualbox for you to test installing and running GhostCRM on your local machine. Its also possible to skip this section and go to the Install Ubuntu Linux
Install Virtualbox
First you will need to download Virtualbox which you can do from here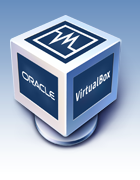 In this example you should download the Windows Hosts
Also download the Extention pack as this provides better experience overall when installed
The Installation is covered really well in this video
Then we need to install the extension pack, again there is a good video here explaining how to do this and why.
Open VirtualBox, then open VirtualBox preferences (Tools > Preferences) by clicking the appropriate icon with your mouse or by pressing Ctrl+G on your keyboard.
In the Preferences window, go to the Extensions section. After a fresh installation of VirtualBox, there are no extensions packages installed. Click the Add a new package button (the icon with a green plus) to add the extension pack.
Browse the file you have downloaded above. In this case, the name of the file is Oracle_VM_VirtualBox_Extension_Pack-6.0.8.vbox-extpack.
VirtualBox notifies you that you are about to install a VirtualBox extension pack. Confirm the installation and click the Install button.
Read the license agreement and hit Agree to continue installation. Wait a few seconds while the files are being copied. If everything is OK, you will get the message that Oracle VM VirtualBox Extension Pack was installed successfully. After closing this notification window, you will see VirtualBox Extension pack in the list of extension packages.
Now you know how to install VirtualBox Extension Pack on Windows.
At this point your Virtualbox is installed and you need to download and install Ubuntu Server into Virtualbox.
Install Ubuntu Linux
What is Ubuntu?
Ubuntu is just like Windows and MacOS an Operating system from a family of Operating systems called Linux. Ubuntu is often considered one of the easier versions of Linux to use as there are so many places to get help with it on the internet.
For the purposes of this tutorial we will use the "Server" version of Ubuntu, it is a version which comes with no point and click interface, and is operated by running text based commands.
Ubuntu is also free, and i'd really recommend downloading the desktop version and giving it a try in Virtualbox after this tutorial.
It has a lower CPU and Memory footprint than the Desktop version of Ubuntu.
Download ISO
Either go to www.ubuntu.com and select Ubuntu Server from the Download menu
And choose Option 3 – Manual install
or head straight to the download URL below.
Click on the Green Download button and download the Ubuntu ISO file to your Downloads folder.
What is an ISO File?
An ISO file is basically the contents of a CD Rom in a single file. Its like a zip file built specfically to copy to a CDROM and they are used to emulate a CD Rom for Virtualbox
This should download a file named ubuntu-20.04.1-live.server.iso which at the time of writing was the latest version of Ubuntu server LTS (Long term support release)
Install Ubuntu
Once the Ubuntu ISO file has downloaded we are ready to continue.
This section is taken from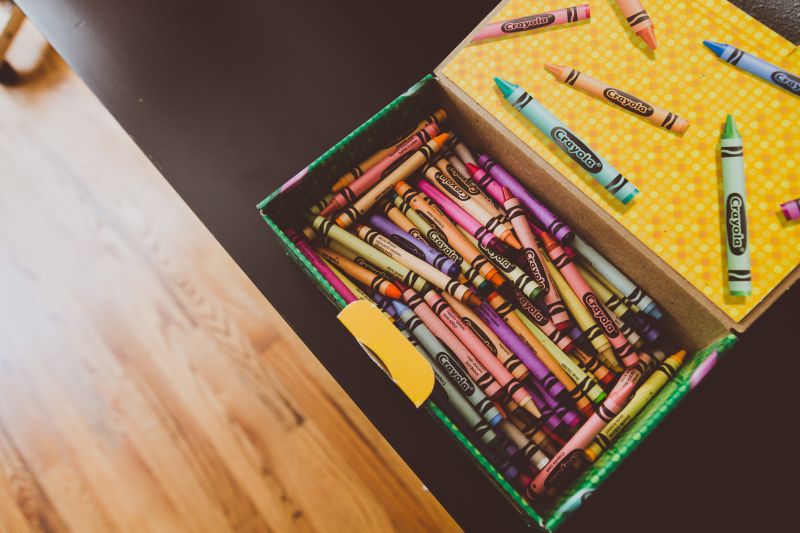 I have edited and updated the text where needed for the purposes of this blog.
Create a New Virtual Machine
Start up VirtualBox. This should open the VirtualBox Manager, the interface from which you will administer all of your virtual machines.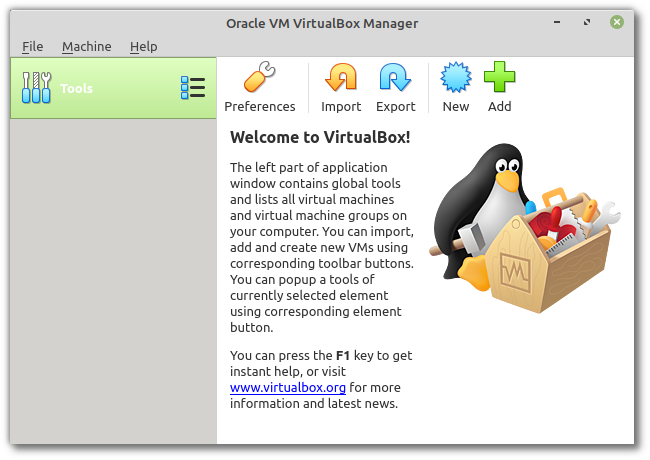 Next Click on New (in the top right of the VirtualBox Manager), give your virtual machine a name and the two drop down menus should automatically update.
Name: UbuntuType: LinuxVersion: Ubuntu (64-bit)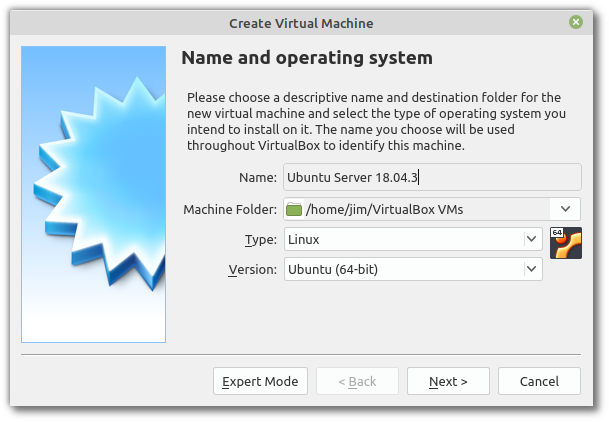 Click Next. The wizard will now ask you to select the amount of memory (RAM) in megabytes to be allocated to the virtual machine. choose 2GB (2048 megabytes).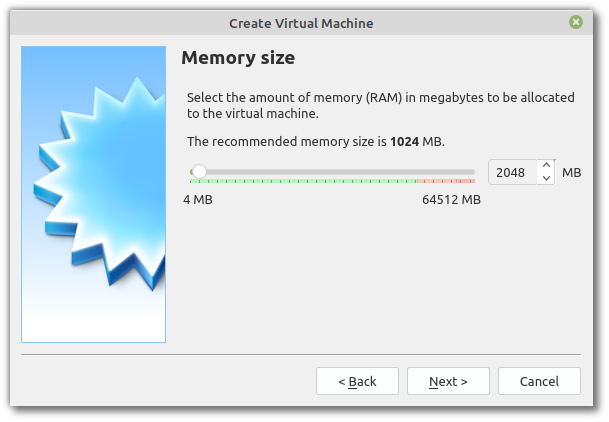 Click Next and you will be prompted to add a virtual hard disk to the new machine. Make sure that Create a virtual hard disk now is selected, then press Create.
Note: You are creating a virtual hard disk here, not adding a new disk to your computer, what actually happens is a file emulating a hard disk is created on your Windows PC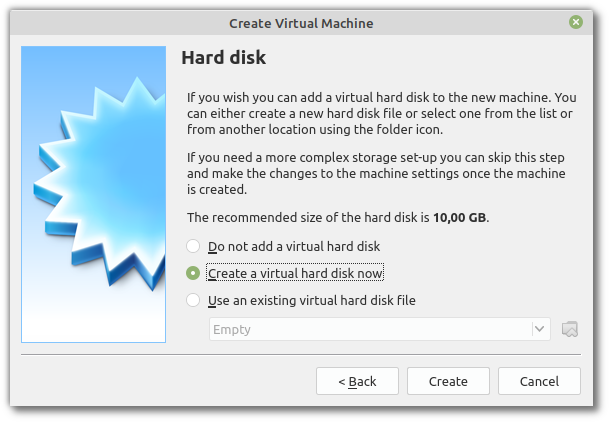 Now we need to choose the file type for the new virtual hard disk. Make sure that VDI (VirtualBox Disk Image) is checked and press Next.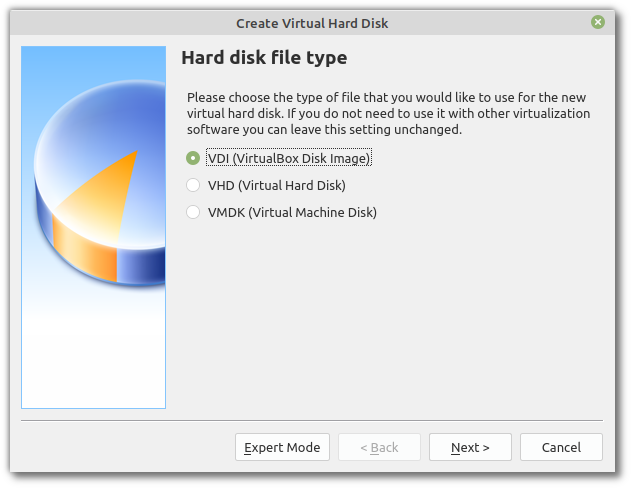 On the next screen you will be asked whether the new virtual hard disk should grow as it is used (dynamically allocated) or if it should be created at its maximum size. Make sure that dynamically allocated is selected, then click Next.
Note: Creating a Dynamic Disk, when to create a virtual disk of 50Gb, it doesn't take up 50Gb of disk space on your Windows host. it only creates a file of the size it needs up to 50Gb. so if the Ubuntu install is 5Gb in size the file will only be 5Gb.
Finally, select the size of the virtual hard disk in megabytes. The default size of 10GB should be plenty, but feel free to increase this as you see fit. Then click Create.
Set Disk size to 40Gb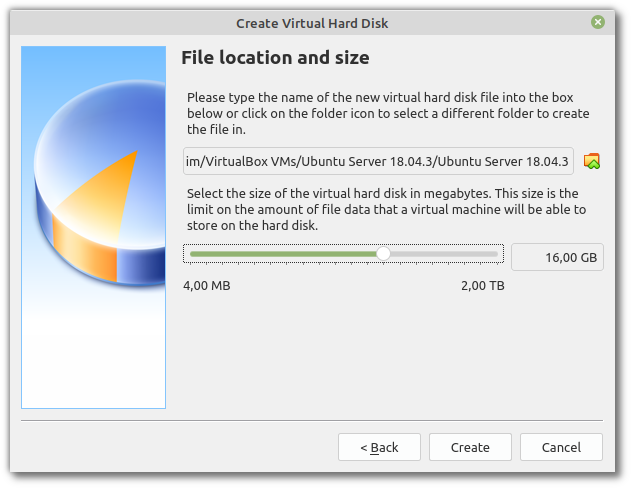 The hard disk should now be created and after a short while you should find yourself back in the VirtualBox Manager. You should be able to see your newly created virtual machine listed on the left.
We now need to change your network settings so your Ubuntu server can get its IP address from your home router
Click on the Settings button and go to Network
Select Bridged Adaptor from the Drop down and click on OK
If your Adaptor name is not enp3s0 thats ok..
Install Ubuntu Server in the Virtual Machine
Make sure your virtual machine is selected and press Start. VirtualBox Manager will ask you to select a virtual optical disk file or a physical optical drive to start the virtual machine from. Select the iso file you downloaded previously and press Start.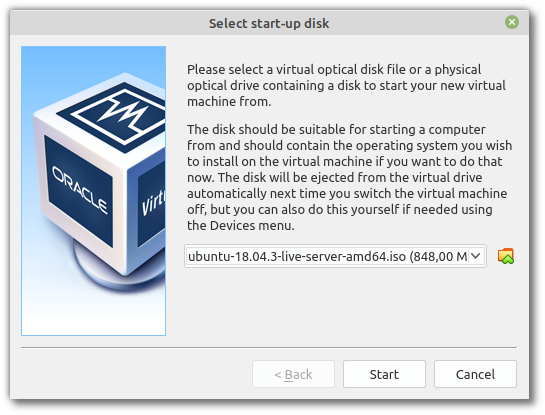 The Ubuntu installation process will now begin. It consists of thirteen steps and is quite painless.
The Welcome Screen
Here you should select your preferred language. I'm using English.
Select English - GB if available, English if not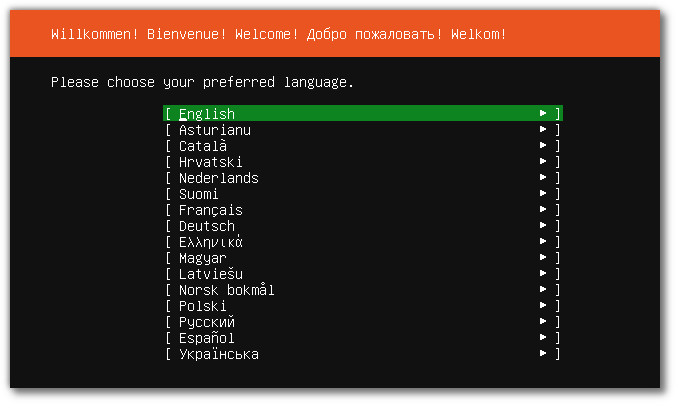 The Keyboard Configuration Screen
Here you should select a keyboard layout.
Select English - Gb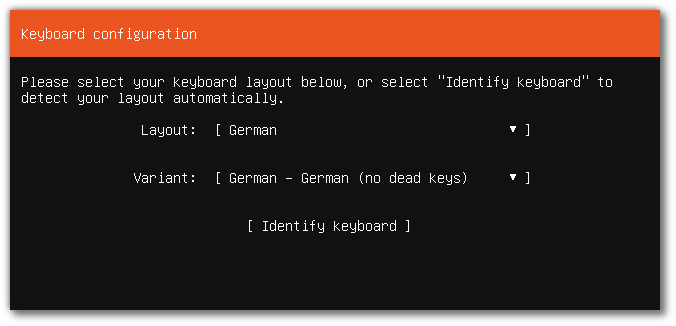 The Network Connections Screen
Here Ubuntu will attempt to configure the standard network interface. Normally you can just accept the default and select Done.
Note: Make a note of the IP Address we will need it later, where i use 10.10.100.10 in this blog, you should use the IP Address in the installer (10.0.2.15 below for example)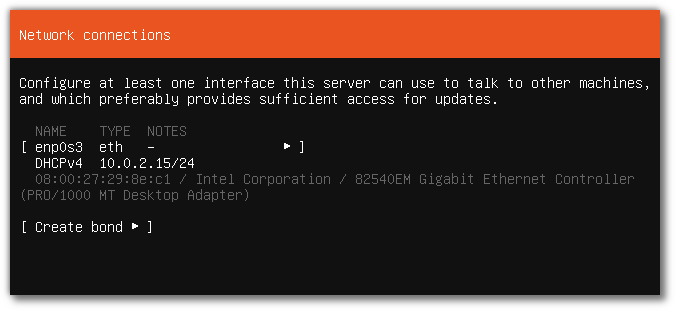 The Configure Proxy Screen
If your system requires a proxy to connect to the internet (mine doesn't, yours won't either), enter its details in the next dialogue. Then select Done.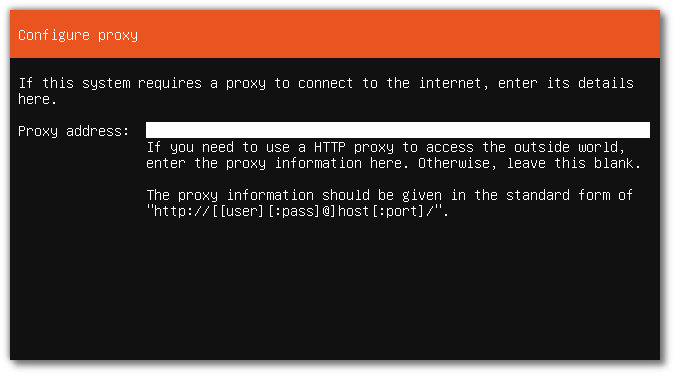 The Ubuntu Archive Mirror Screen
If you wish to use an alternative mirror for Ubuntu, you can enter the details here. Otherwise accept the default mirror by selecting Done.
In the UK this will say gb.archive.ubuntu.com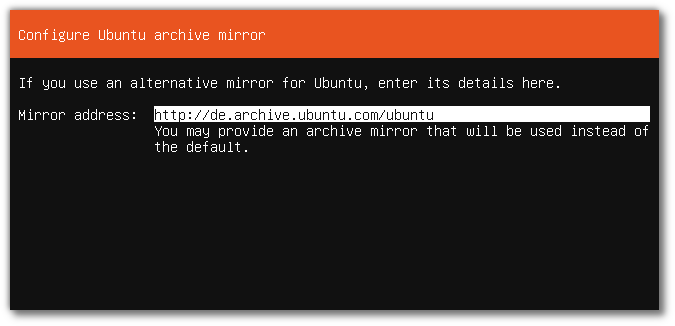 The Filesystem Setup Screen
The installer can guide you through partitioning an entire disk or, if you prefer, you can do it manually (I wouldn't suggest manually this). If you choose to partition an entire disk you will still have a chance to review and modify the results before Ubuntu is installed. I selected Use An Entire Disk.
I was then prompted to select my virtual machine's hard disk as the disk to install to, before being shown a summary of what the installer would do. As this is a "destructive action". I was asked to confirm my choice with Continue.
Because we setup a 40Gb disk the size below will not read 15.997Gb it will read a number closer to 40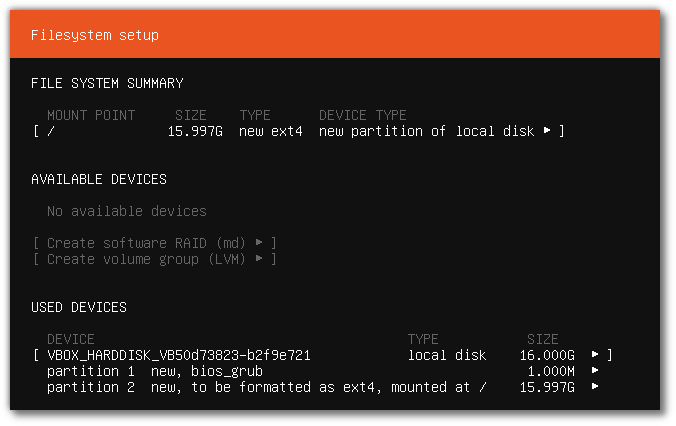 The Profile Setup Screen
Here you are required to enter:
Your (real) name
Your server's name: ghost
Your username: Sysadmin
Password: PeanutMokneyCar
Fill these details out as you see fit However the above will track with this blog.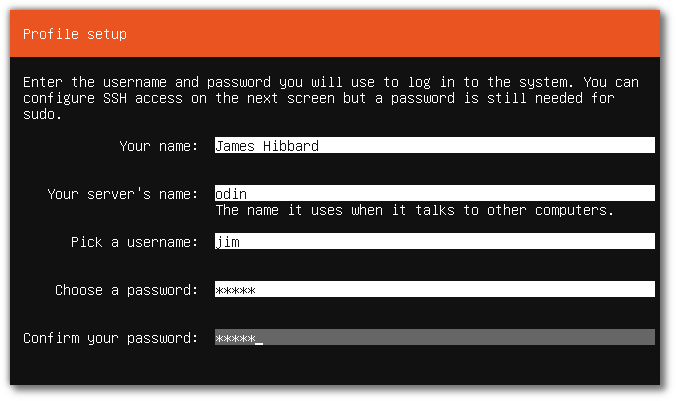 The SSH Setup Screen
Here we have a chance to install the OpenSSH server package. We'll need this to connect to the virtual machine via SSH later on, so ensure that you select it.
You also have the opportunity to import your SSH keys from GitHub or Launchpad. I selected No for this option.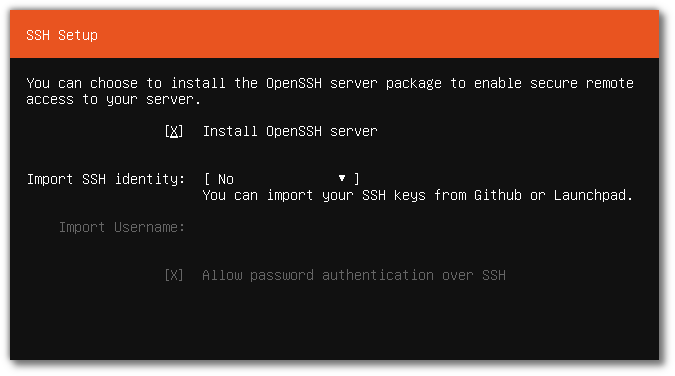 The Featured Server Snaps screen
Here you can select from a list of popular snaps to install on your system. Snaps are self-contained software packages that work across a range of Linux distributions. I didn't select any.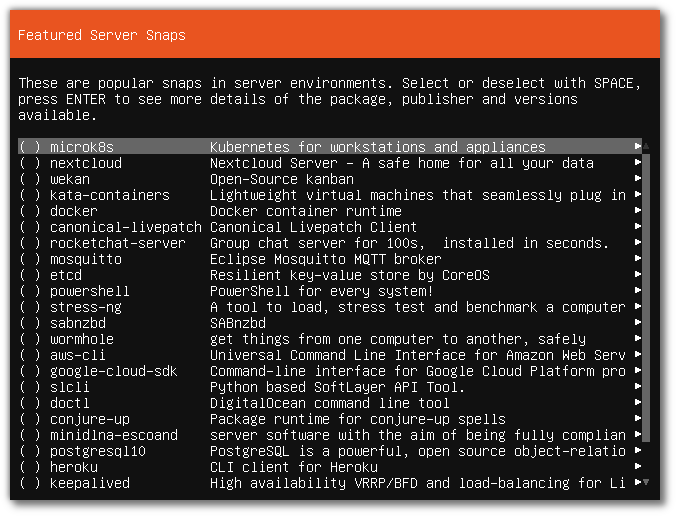 And that's it, the installation is complete. Ubuntu will ask you to remove the installation medium (which you can do via Devices > Optical Drives > Remove disk from virtual drive > Force unmount) and then reboot.
If this option is grayed out, you're good to go. Just reboot.
ogin using the username and password we entered earlier enter the username and press Enter, Enter the password and press Enter.
username: sysadminpassword: PeanutMonkeyCar
You should now see a screen similar to this
‌   Write down the IPv4 Address as we will need it later.
For the purpose of this blog the EXAMPLE IP address is 10.10.100.10 your IP address WILL be different.
Note:
Working in the Virtualbox console is ok, but it doesn't support things like copy and paste and I find it very restrictive. We can use SSH to connect from your windows box to the Ubuntu server.
SSH to Ubuntu
Hang on, what is SSH?
Secure Shell (SSH) is a software standard to support encrypted data transfer between two computers. It can be used to support secure logins, file transfers or general purpose connects. Servers maintained by ITS require SSH-based connections in most cases.
Its a tool you can use to connect remotely from your Windows PC to the Virtualbox machine you've just created and you can copy pretend you're on the Ubuntu machine. for the sake of this blog it also means that you can copy and paste commands from this blog page to the Ubuntu machine using an SSH Client.
In the real world the SSH client would be connecting to machines on the other side of the world.
SSH Client – Putty
Download the putty installer for Windows from
Download the 64-Bit MSI Installer
Open File Explorer (Windows 10) or Windows Explorer (Windows prior to 10). The Windows logo key + e shortcut works for Windows 10 and earlier versions. Navigate to the Downloads directory (or wherever you saved the installer) and double-click on the installer file name.
The installer starts, showing the Welcome to the PuTTY Setup Wizard screen. Click Next.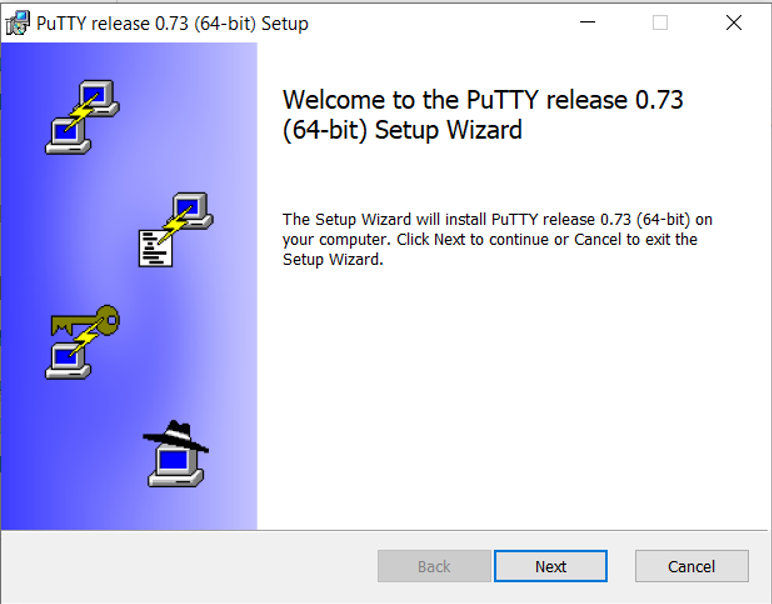 The installer next asks for the destination folder. Normally, it is fine to accept the default. Otherwise, enter your preferred destination folder. Click Next.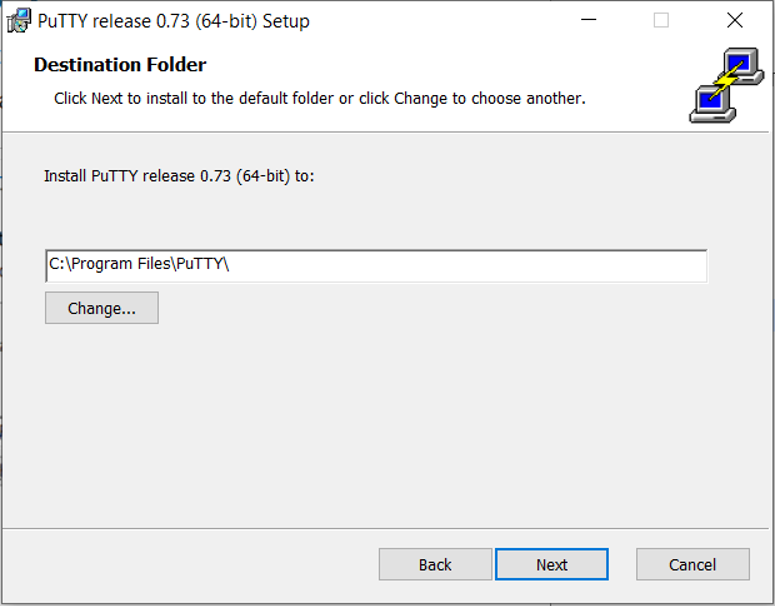 The installer next asks you which PuTTY features to install.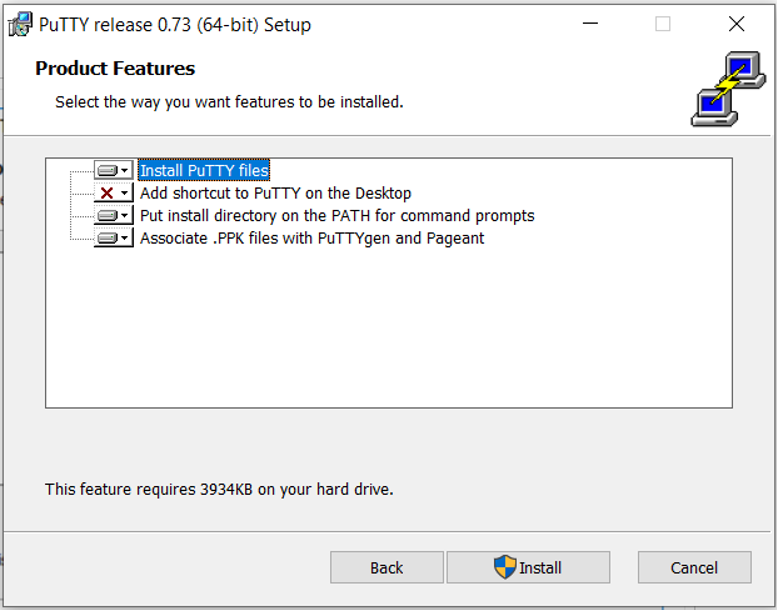 It is convenient to have a shortcut on your desktop. Change the Add shortcut to PuTTY on the Desktop from unavailable (red x) to Will be installed on local hard drive. Click Install. If you are prompted to run the PuTTY Installer, then allow it to run.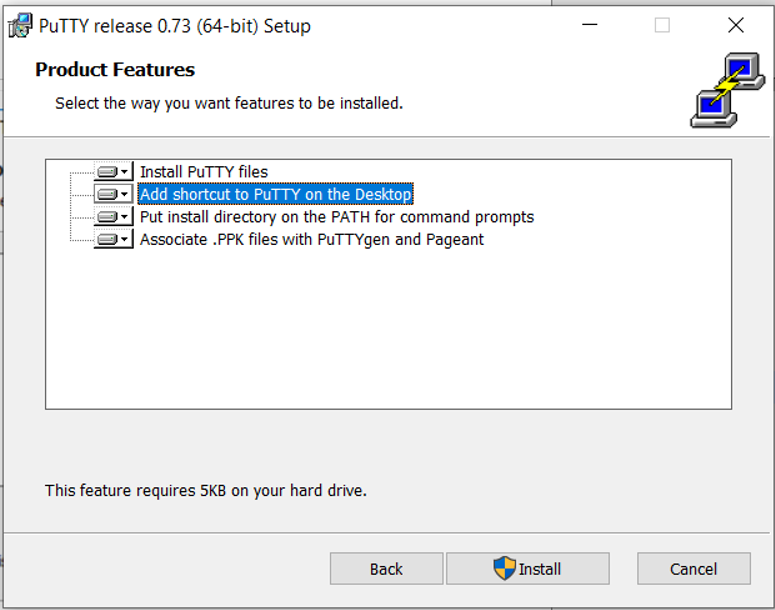 The installer will inform you when the install is complete. Click Finish.
If you created the PuTTY desktop shortcut during the installation, then you have the PuTTY icon on your desktop. Double click the PuTTY icon to start the PuTTY SSH client.
If you did not create the desktop shortcut or cannot find it, then select the Windows Start button located on the bottom left of your desktop. Scroll to menu item PuTTY or PuTTY (64-bit), then select PuTTY.
The PuTTY Configuration window will start. Enter the hostname or IP address of the remote host you want to connect in the "Host Name (or IP address)" field, then click Open.
HostName (or IP address): 10.10.100.10 (This will be the IP you wrote down earlier, 10.10.100.10 is my example IP)Port: 22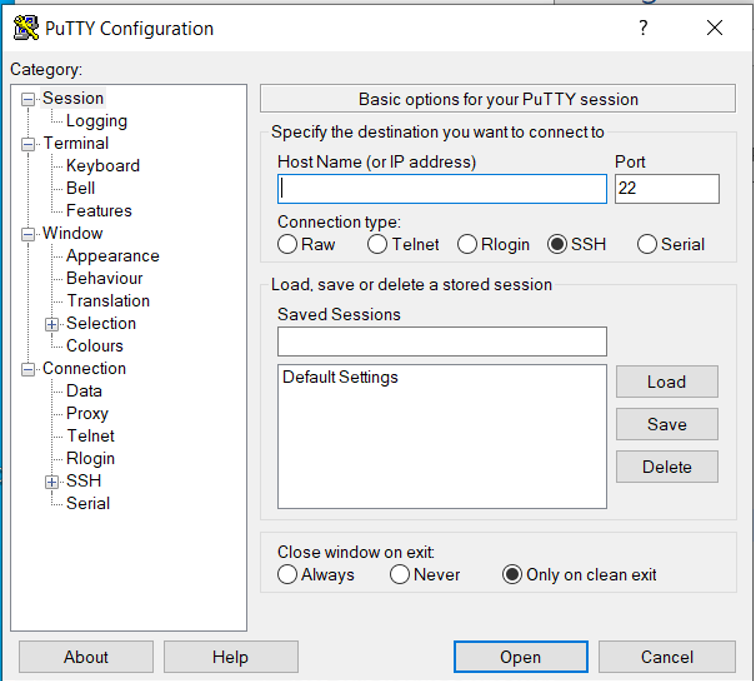 You are alerted the first time you connect to a remote host to inform you the host's SSH key is not cached in your PuTTY registry. This is normal. Click Yes to save the remote host's SSH key in your local PuTTY registry to proceed. If in the future you connect to the same remote host, then you should normally not see this alert.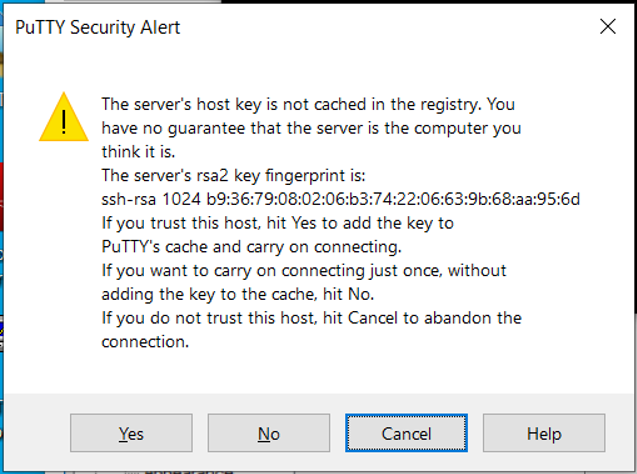 A Black screen with a prompt which reads "login as" will appear
Enter your remote host username and password at the login as: and Password: prompts, respectively.
sysadminPeanutMonkeyCar
You are now logged into your server with SSH. You should see output like this:
The programs included with the Ubuntu/Linux system are free software; the exact distribution terms for each program are described in the individual files in /usr/share/doc/*/copyright. Ubuntu/Linux comes with ABSOLUTELY NO WARRANTY, to the extent permitted by applicable law. sysadmin@ghostcrm:~$
sysadmin@ubuntu:>
‌‌Congratulations you have installed Virtualbox, setup an Ubuntu server and connected it to SSH..
Update Ubuntu
Next you are going to enter your first linux command which will install updates on the Ubuntu Server.
You can copy and paste this command into your putty session
Note:
In linux commands are case dependent so Apt and apt are two different commands and only apt will be recognised.
‌                          sudo apt update && sudo apt upgrade -y
You will be asked for your password enter
‌                          PeanutMonkeyCar
There is a lot to unpack here
sudo – your normal user has very basic rights to do anything on the system which might cause a problem. typing sudo in front of a command runs it with higher privileges
apt update – Ubuntu gets its updates from the internet, apt update pulls down the latest information about package versions to your local machine so it knows which packages to update.
&& – There are actually two commands apt upgrade and apt update, the && basically says if the previous command completes correctly run the next command.
apt upgrade – apt upgrade pulls down the packages you need to upgrade on Ubuntu from the internet, and updates them locally on the server. It also will make sure that in updating it doesn't break other packages and/or over write any custom files
-y – The apt upgrade command will prompt you "do you want to continue yes or no" if you add a -y it won't prompt you and will confine the upgrade.
At this point we have a working updated Ubuntu server and are ready to install GhostCRM
Install Ghost CRM
Before we can install GhostCRM we need to install and setup a Webserver, a Database and a programming language. While this might sound daunting, its really just a case of copying some commands. I'll try and explain what is happening during this section.
Install Prerequisites
Install Nginx
Nginx is a webserver for Linux, its a pretty powerful beast however the Ghost setup will do the heavy lifting for us.
Nginx will be used as a reverse proxy for your Ghost application:
sudo apt install -y nginx
If you are prompted for your password enter
PeanutMonkeyCar
Install MySQL
Download and install MySQL:
While not overly complex to install and setup the MySQL (or MariaDB) Database has a couple of extra security steps which if followed should be quite simple.
 sudo apt install -y mysql-server
Run the mysql_secure_installation script to setup password for the MySQL root user:
sudo mysql_secure_installation
Ths script will ask a set of questions to secure your SQL server
Note
Enter current password for root (enter for none): – Press Enter as there is no root password by default
You already have a root password set, so you can safely answer 'n'. – We do want to set a root password (root is the super user) use the password
BatKittenBanana
Change the root password? [Y/n] Y Enter Root password Enter Root Password again
The full script which runs is designed to add some security to the Database and will look as follows (or close to)
NOTE: RUNNING ALL PARTS OF THIS SCRIPT IS RECOMMENDED FOR ALL MariaDB  SERVERS IN PRODUCTION USE!  PLEASE READ EACH STEP CAREFULLY!In order to log into MariaDB to secure it, we'll need the currentpassword for the root user.  If you've just installed MariaDB, andyou haven't set the root password yet, the password will be blank,so you should just press enter here.Enter current password for root (enter for none): OK, successfully used password, moving on...Setting the root password ensures that nobody can log into the MariaDBroot user without the proper authorisation.You already have a root password set, so you can safely answer 'n'.Change the root password? [Y/n] n ... skipping.By default, a MariaDB installation has an anonymous user, allowing anyoneto log into MariaDB without having to have a user account created forthem.  This is intended only for testing, and to make the installationgo a bit smoother.  You should remove them before moving into aproduction environment.Remove anonymous users? [Y/n] y ... Success! Normally, root should only be allowed to connect from 'localhost'.  This ensures that someone cannot guess at the root password from the network.Disallow root login remotely? [Y/n] y ... Success!By default, MariaDB comes with a database named 'test' that anyone canaccess.  This is also intended only for testing, and should be removedbefore moving into a production environment.Remove test database and access to it? [Y/n] y - Dropping test database... ... Success! - Removing privileges on test database... ... Success! Reloading the privilege tables will ensure that all changes made so far will take effect immediately. Reload privilege tables now? [Y/n] y  ... Success! Cleaning up... All done!  If you've completed all of the above steps, your MariaDB installation should now be secure. Thanks for using MariaDB!
We also need to make a change to a config file
Run
Note: Nano is a text editor, there are many different ones on Ubuntu, vi, vim, emacs which are all great editors, for this blog Nano is the easiest to navigate
sudo nano /etc/mysql/mysql.conf.d/mysqld.cnf
and add the following to [mysqld]:
default-authentication-plugin=mysql_native_password
Press Ctrl and X to Exit
Select Yes when prompted to Save
Now these changes have been made we need to restart the "service", the service what controls the application and we use it to start, stop, restart or reload an application. Windows has the same thing its just a bit more hidden. By restarting the mysql services the changes above are all reloaded and working.
Restart MySQL:
sudo systemctl restart mysql.service
Install Node.js and npm
Ghost is built on Node.js and follows Node's Long Term Support (LTS) plan. Ghost only supports LTS versions of Node.js.
Note:
Curl is an application which we can use to download things from the internet without needing to use a web browser
the | at the end of the command is a pipe, and its telling Linux, whatever happens with the curl command redirect the output to whatever is after the | symbol. In this case its Bash, a command prompt. So this command downloads something from the internet and runs it automatically.
We it is actually doing is installing another repository, a site on the internet with installer files on it which Ubuntu can download inad install using apt
Download and install recommended Node.js version which is 12.x (Node v12 Erbium LTS) at the time of this writing:
curl -sL https://deb.nodesource.com/setup_12.x | sudo -E bash - sudo apt install -y nodejs
npm is a separate project from Node.js, and tends to update more frequently. As a result, even if you've just downloaded Node.js (and therefore npm), you'll probably need to update your npm. Luckily, npm knows how to update itself! To update your npm, type this into your terminal:
sudo npm install -g npm@latest
Install GhostCRM
If you've got this far, well done, we have finally reached the bit where we install the Blog software onto the Ubuntu Box. The Ubuntu is installed, the dpendencies installed and we are ready to go.
Install Ghost-CLI
Ghost-CLI is a command line interface (CLI) tool that makes installing and updating Ghost easy.
Install Ghost-CLI:
sudo npm install -g ghost-cli@latest
Troubleshoot the system for any potential issues when installing or updating Ghost:
 ghost doctor install 
You will probably get this warning that you can ignore – "System checks failed with message: 'Linux version is not Ubuntu 16 or 18'‌‌Some features of Ghost-CLI may not work without additional configuration.‌‌For local installs we recommend using ghost install local instead.‌‌? Continue anyway? Yes"
Install Ghost
Create the document root directory:
sudo mkdir -p /var/www/ghost
Change ownership of the /var/www/ghost directory to the non-root user with sudo privileges that you created. In this example, `sysadmin:
sudo chown sysadmin:sysadmin /var/www/ghost 
Navigate to the Ghost root directory:
cd /var/www/ghost
Ensure that the directory is empty to avoid file conflicts:
ls -a 
Install Ghost in production mode:
ghost install 
Answer each question as prompted. For more information about each question, visit the Ghost documentation:
Note:
As this is an example of setting up a server i'm not going to setup the SSL option as this requires some additional setup
? Enter your blog URL: http://ghost? Enter your MySQL hostname: localhost? Enter your MySQL username: root? Enter your MySQL password: BatKittenBanana? Enter your Ghost database name: ghostdb? Do you wish to set up Nginx? yes? Do you wish to set up SSL? no? Do you wish to set up "ghost" mysql user? yes? Do you wish to set up Systemd? yes? Do you want to start Ghost? yes
After installation is complete, run ghost ls to view running Ghost processes:‌                  
ghost ls 
And your done Ghost is installed
Complete the Setup
To complete the setup process, navigate to the Ghost configuration page by appending /ghost to the end of your blog's URL or IP. This example uses
https://10.10.100.10/ghost
You will see the welcome page to setup the Ghost admin account.
After going through the setup process of admin account, you will be able to see the admin dashboard.
Congratulations, now you have successfully setup the ghost blog locally! ✌️
Feel free to experiment it out as you like. Try publishing some dummy blog post:
And proceed to `http://10.10.100.10/ to view your blog posts. In case you haven't notice, it is the same URL as admin page without the /ghost/.
Boom! The test blog post has been successfully added.
Start/Stop the ghost blog
To stop the Ghost blog server, simply head back to the terminal and execute
cd /var/www/ghostghost stop
Now the Ghost Blog is not available at the URL anymore. To start Ghost again next time, simply go to ~/Documents/ghost/ directory to start the local server.
cd /var/www/ghostghost stop
What to do if you make a mistake?
One of the joys of doing this using virtualbox to test how to get the system running is in the case you make a mistake or want to start again you can Delete the Ubuntu machine by right clicking on it and selecting Remove
Note:
If its greyed out, right click on the machine and choose stop
You will be asked how, and select Delete all files
Then just start again
Shutdown Ubuntu
You will not want to use the Ubuntu machine in Virtualbox all the time.
To shut it down from putty type
sudo shutdown -h now
this will tell Linux to halt all the services and shut down ubuntu.
To restart Ubuntu you can type
sudo reboot
Everything you have setup will restart post reboot.
References